By Matt Agorist (via The Free Thought Project)
In spite of the fact that weed is legal in some form in well over half the country, the drug warrior predator class still viciously enforces the war on marijuana, ruining and ending countless lives from coast to coast in the process.
Showing the massive disconnect between the police and the policed is the fact that despite the majority of the country agreeing on the legalization of marijuana, police departments still shamelessly take to social media to brag about kidnapping, caging and robbing people for it.
The Terrebone Parish Sheriff's Office in southern Louisiana is the latest department to feel the heat for bragging about a recent kidnapping — and every bit of it is deserved.
On December 1, according to the department, they were patrolling an area near a storage facility and saw a man sitting near his pickup truck. The cops were with the TPSO's narcotics force and when they pulled up on Brent Meads, they immediately claimed to smell the devil's lettuce inside his truck.
In their post (archived here) on Facebook, police legitimized Meads' subsequent kidnapping with the following statement:
Agents learned that Meads did not have a mini storage at this facility.
​After further investigation agents obtained a search warrant for the vehicle and the mini storage. During the execution of the search warrant agents recovered 20 pounds of marijuana, which has a street value of more than $100,000.00, along with $20,000.00 in cash, a Kel-Tec 5.56 rifle and a fully automatic Glock 40. Caliber handgun.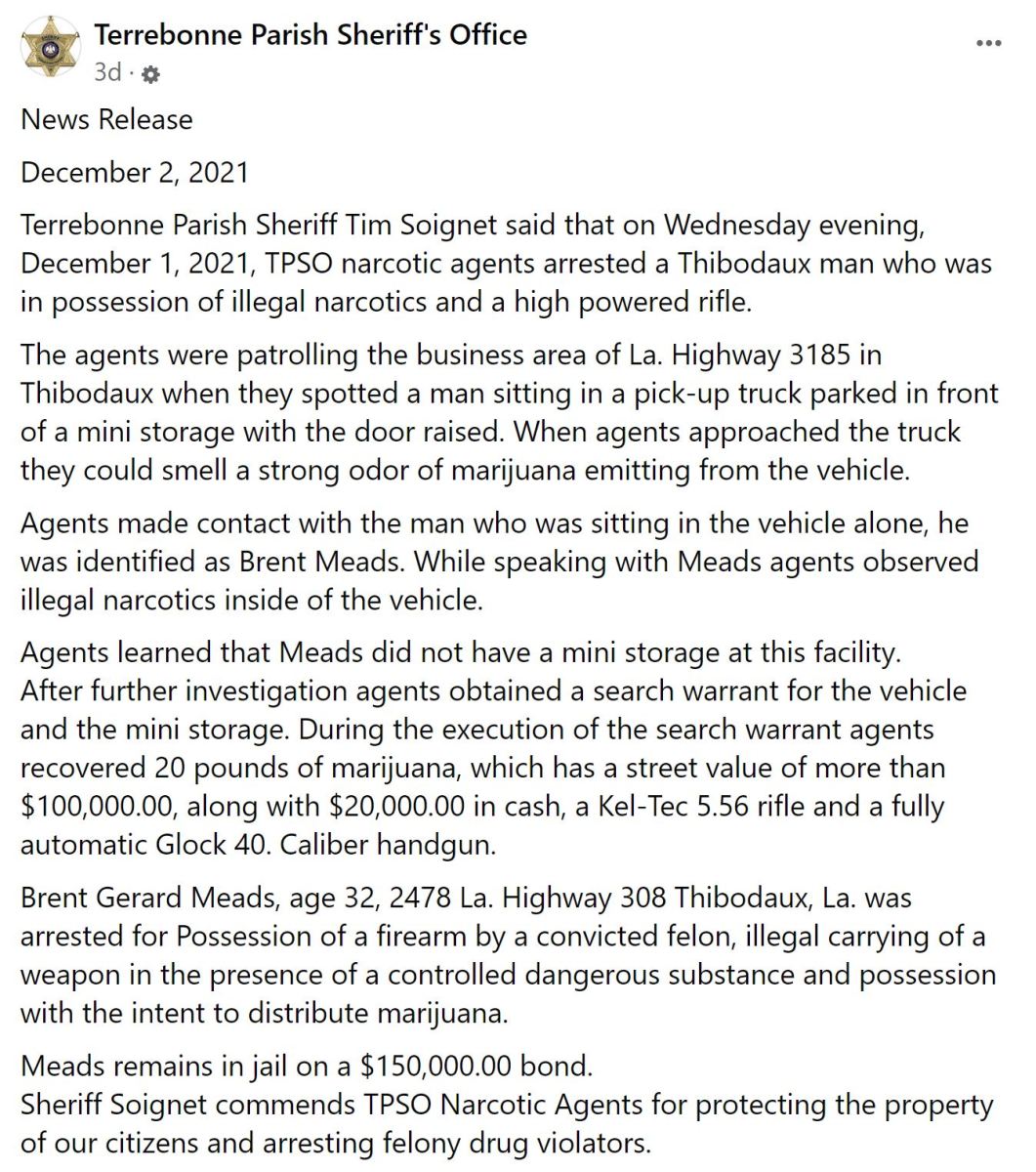 TFTP looked up Meads' history, and going back years, police in south Louisiana have been arresting him for substances deemed illegal by the state. Likely due to the fact that he cannot get a good job because of his arrest record for drugs, Meads has very few options for employment. So, he apparently resorted to selling cannabis to support himself.
If he lived in California, he'd be heralded as an entrepreneur but because he lives in Louisiana, he is now in jail on a $150,000 bond — for having and allegedly attempting to sell a plant to willing customers.
In Louisiana, medical marijuana is legal with a prescription. The two major companies who hold a monopoly on the distribution of that medical marijuana make millions from that government-maintained monopoly while people like Meads end up in a cage for daring to challenge it.
This is shameful and it must stop and judging from the comments on the TPSO's post, We The People are ready for a change.
Spike Cohen, the former vice presidential candidate for the Libertarian Party weighed in on the post, saying:
Weed, guns and money should not be illegal, and anyone who would ruin someone's life over possessing those things needs to examine what it is they do for a living.
Brent Meads did nothing wrong.
When we end the war on drugs, qualified immunity and police unions, you'll have to stop going after people who are exercising their rights, and start going after your fellow officers when they commit crimes against We the People.
Others agreed pointing out:
"This guy is really just a small business owner. Selling harmless medicine to willing customers for a fair price and owning a firearm in order to protect his business and self. Wheres (sic) the crime?"
The idea that police are still dedicating resources to going after people with a plant when there is a show on Netflix dedicated to cooking with that plant, shows the sheer disconnect between the government and their enforcers in law enforcement and the will of the people. This mentally should have died out a long time ago, yet here we are in 2021, with a mindset in the 30s.
"Dangerous Narcotics?! Get out of here with that nonsense. 1937 called, they want their propaganda back."